Shanghai Tramy Large Food Cold Storage Project
Cold Storage Size: 20,000 square meters
Unit Selection: Fusheng brand screw compressor, Bitzer piston compressor
Introduction to the Cold Storage Project: Shanghai Kendall Refrigeration Engineering Co., Ltd. was invited by the project owner, Shanghai Tramy Co., to participate in the bidding and it eventually won the bid. After receiving the invitation to bid, Kendall Refrigeration organized relevant experts to research and discuss the cold storage design and equipment selection based on features and requirements of the cold storage project. They decided that several sets of Taiwan's Fusheng brand screw compressor and Bitzer piston compressor, several sets of evaporative condensers and several sets of ceiling-mounted coolers (double outlet) shall be used for the refrigeration unit while 100MM thick polyurethane double-sided color steel insulation boards shall be used for the cold storage plates. For the cold storage doors, manual single-gate sliding doors or electric single-gate sliding doors shall be used according to different requirements. After starting the project, the construction staff of Kendall Refrigeration worked meticulously and efficiently and project management staff was stationed at the warehouse to supervise work 24 hours a day. With the cooperation and strong support of Tramy Co., the cold storage project was completed on schedule and the project quality was highly regarded by Tramy Co.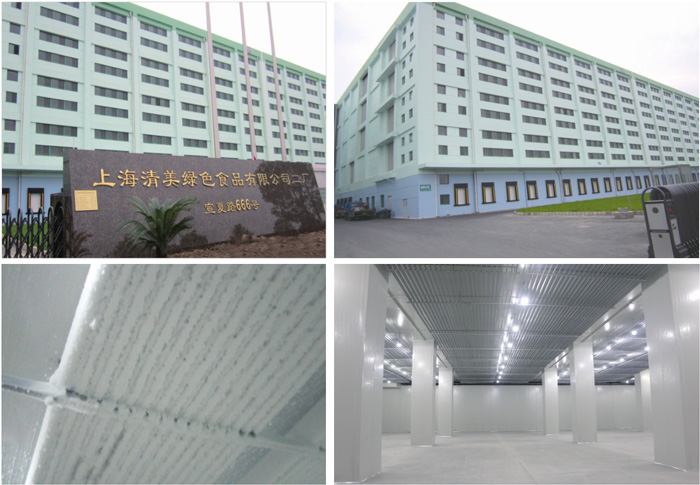 Jiangsu Changzhou Ruziniu Co. Large Cold Storage Project
Cold Storage Size: 4,000 square meters
Unit Selection: Kendall full-liquid compressor
Introduction to the Cold Storage Project: The Ruziniu cold storage occupies an area of nearly 4,000 square meters and has a net height of 10 meters. It mainly stores red dates, walnuts, mung beans, red beans, raisins and other products. The cold storage uses 150mm polyurethane double-sided color steel plates (including flame retardants), which have excellent thermal insulation and fire resistance, domestic electric sliding doors, which are affordable and durable, 1 set of FN2500 air curtain, 1 set of KCE-340 full liquid compressor unit, 1 unit of SWL-1165 evaporative condenser, which altogether guarantee a strong cooling effect.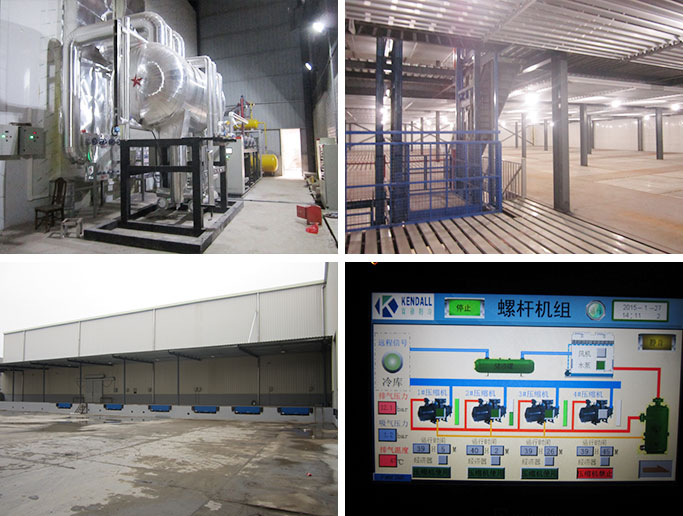 Chengdu Jingrui Large Food Processing Cold Storage Project
Cold Storage Size: 6,500 square meters
Unit Selection: Three compressors: Bitzer, Taiwan Fusheng, and U.S. Copeland
Introduction to the Cold Storage Project: The large food processing cold storage with an area of about 6,500 square meters of Chengdu Jingrui was constructed by Kendall Refrigeration. This was a large project containing more than ten freezer storages, which included a raw material storage, finished goods storage, egg storage, freezer storage, quick-freezing storage, thawing room and packaging and processing area. The temperature could go as low as -35℃.
Advantages of the Cold Storage: The entire cold storage adopts the fluorine-refrigeration direct-expansion liquid supply method. The refrigeration system uses three compressors, namely Germany's Bitzer, Taiwan's Fusheng and U.S.' Copeland. The cold storage also has comprehensive equipment operation monitoring and temperature monitoring, which scientificize the cold storage supply chain management resulting to safer food products.